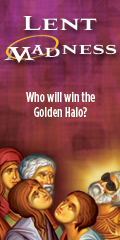 If you asked the library staff what March madness is, you'd get a variety of responses, ranging from "something to do with basketball?" to "something to with hares?"
Lent madness, on the other hand, is a nifty (and fun!) way to spend the lenten season learning about various saints and well-known Christian figures. Subscribing to the site gets you an email a day (or so) containing information about the day's competing saints, and a link to vote for your favorite. The field hosts a very wide range of competitors–from Paul of Tarsus to Emmegahbowh (who defeated Thomas the apsotle yesterday). Today's match is William Law vs. Columba–anyone can vote, and no registration is required.
It even comes with the endorsement of our very own David Lamb, so really there's no reason not to go check it out the next time you need a break from studying.